I'm aware that new sign ups are not able to receive the email confirmation notification, due to google has disabled the SMTP service. please email me at
[email protected]
for manual activation. We will be moving to a better platform soon.
Pag may issue direct email nyo lang ako sa
[email protected]
. Hindi mawawala ang site nato dahil need natin ng ganitong site para may protection tayo. Kumpara sa Social Media kung san expose ang buong buhay nyo :) Ingat baka matrace kayo. Alam nyo naman ang nature ng buhay natin sa Singapore. Ingat po sa lahat. Salamat po! :)
Important notice to those who are posting Job Advertisements on the site. Please check the proper guidelines from Tafep.sg
here
before posting. Read on the Words And Phrases To Avoid In Job Advertisements .
Hi to all Pinoys out there in Singapore! We are bringing up a new online community where our aim is to help each other and to integrate / blend well with other people around us here in our 2nd Home. Hope you can join us and make us your new tambayan place! An attempt to bring back pinoysg.com . For issues on the site please send your concern to
[email protected]
. Please don't forget to check your spam folder when checking for the confirmation email.
Aircon serviceat $18: Aircon NOT Cold/Less Cold, servicing, cleaning, foul smell, HP93763389
No hidden charges, No night/holiday surcharges, No transportation cost, No funny gimmicks, No eating up customers at backdoors...
Very Straight forward and honest price...
**HIGH PRESSURE ANTI-BACTERIAL STEAM WASH + GENERAL SERVICE:
**
Please click the link below to watch HIGH PRESSURE ANTI-BACTERIAL STEAM service video: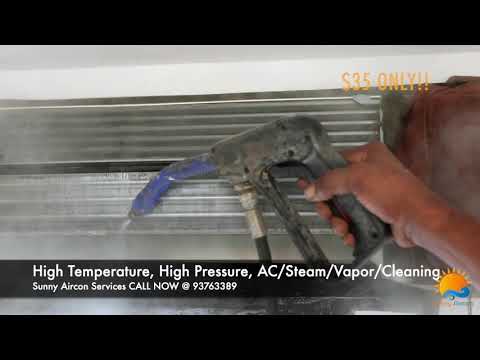  It helps to remove mold and bacteria a minor choke from the fan coil
 Removes foul smell
 Kills allergy causing bacteria
 Improves cooling
 No hidden cost, No GST, Free transport charges, No Weekend/Night/Holiday surcharges
$35 per unit for 3 units and above (cheapest in the market).
$40 per unit for 2 units.
$60 for 1 unit.
Check & wash air filter/front panel(cover)
Check & wash evaporator coil, drainage pan with HIGH PRESSURE STEAM at 200 deg temperature & 10 bar
Check & vacuum blower fan blades
Check & vacuum drainage pipe
Check & test working condition of equipment
Check for uncommon sound generated by units
Check & tightening of electrical contacts
Check gas pressure (if necessary)
Check thermostat & fan bearing (if necessary)
BENEFITS:
 Fully Sanitizes fancoil unit
 Protects from dust allergies
For Not cold or Less cold Aircon, Foul Smell and not serviced for long, we recommend more intense cleaning:
CHEAPEST AND MOST COST EFFECTIVE AND SAFEST SOLUTION FOR AIRCON NOT COLD OR LESS COLD AT LESS THAN HALF THE PRICE OF CHEMICAL OVERHAUL
The chemical loosens the dirt and the 200 degrees centigrade high pressure steam breaks and pushes out the dirt safely without damaging the aircon and removing all bad smell. Once the dirt is removed the airflow improves and the wind becomes stronger and much colder and fresher.
CHEMICAL WASH + HIGH PRESSURE ANTI BACTERIAL STEAM is far superior to CHEMICAL WASH WITHOUT STEAM. OUR POWERFUL INDUSTRIAL STANDARD STEAM MACHINE MAKES THE BIG DIFFERENCE. MUCH COLDER AND FRESHER AIR FOR A LONGER PERIOD.
Please click on the link below to watch the 138 seconds youtube video to be convinced what you get for $50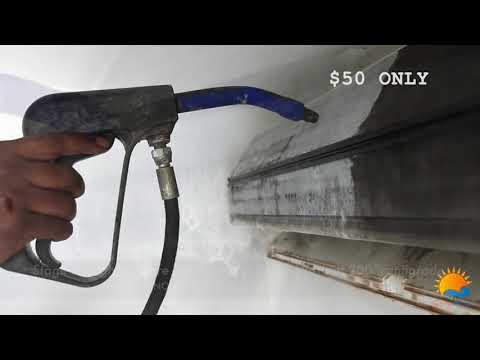 Advantages:
1. Because we use machine, it takes shorter time than overhaul and so we give it cheaper to get more customers.
2. Much safer than overhaul method as the components do not get damaged of faulty due to dismantling method end up paying for expensive repairs.
3. In many cases the gas pipe after chemical overhaul gets damaged which will lead to gas leak and higher repair cost (ABOUT $600 OR FREQUENT GAS TOP UP). Most of my customers who complain about gas leak had done chemical overhaul recently.
4. It is so cheap and safe that you can do as often as you want. Most of my customers do it once a year and in between they just wash their filters and put back.
5. The super high temperature steam will also remove bad odour due to bacteria and the air smells fresh.
Our workers are very experienced and they will work towards giving you the best results.
PRICING:
$50 per unit for 3 units or above.
$60 per unit for 2 units.
$80 for 1 unit.
GENERAL SERVICING:
Cleaning of cover, filter and dusting and vacuum fan coil and drainage pipe.
$15 per unit for 10 units or above (Non HDB).
$18 per unit for 7 to 8 units (Non HDB).
$20 per unit for 3 to 6 units (Non HDB).
$18 per unit for 3 units or above (HDB).
$25 per unit for 2 units (HDB/ Non HDB).
$40 per unit for 1 unit (HDB/Non HDB).
(Price difference because normally longer time spent at Non HDB)
Call 93763389 for fast response
INSTALLATION, REPAIRS, SERVICING, GAS TOP UP, DISMENTLING