I'm aware that new sign ups are not able to receive the email confirmation notification, due to google has disabled the SMTP service. please email me at
[email protected]
for manual activation. We will be moving to a better platform soon.
Pag may issue direct email nyo lang ako sa
[email protected]
. Hindi mawawala ang site nato dahil need natin ng ganitong site para may protection tayo. Kumpara sa Social Media kung san expose ang buong buhay nyo :) Ingat baka matrace kayo. Alam nyo naman ang nature ng buhay natin sa Singapore. Ingat po sa lahat. Salamat po! :)
Important notice to those who are posting Job Advertisements on the site. Please check the proper guidelines from Tafep.sg
here
before posting. Read on the Words And Phrases To Avoid In Job Advertisements .
Hi to all Pinoys out there in Singapore! We are bringing up a new online community where our aim is to help each other and to integrate / blend well with other people around us here in our 2nd Home. Hope you can join us and make us your new tambayan place! An attempt to bring back pinoysg.com . For issues on the site please send your concern to
[email protected]
. Please don't forget to check your spam folder when checking for the confirmation email.
Aircon Service: Don't wait for your loved ones to fall sick - Call - 9376 3389
Continuous sneezing, coughing due to Dusty Aircon! W.H.A.T.???
What will you choose? Service the Aircon or to Pay your medical
bills?
How often do you see your doctor for throat infections & allergies?
According to the American College of Allergy, Asthma and Immunology (ACAAI), Study show that indoor air pollution caused by a dirty air filter can trigger allergic reaction, sinus congestion, coughing, throat and lung infection in children, old aged and those, who are immune system is weak.
OUR CHEMICAL WASH PLUS ANTI-BACTERIAL HIGH PRESSURE 200 DEGREE HOT STEAM KILLS ALL THE ALLERGY CAUSING BACTERIA, MOLD, FUNGUS AND DISINFECTS AIRCON UP TO 99.99%.
ADVANTAGE:
Chemical loosen up the dirt and high pressure
steam flush out all the dirt

Kills household bacteria/fungus and decrease the
Dust-Causing Disease into children/adults

Environment Friendly and saving Green Energy – Usage
of water is the least.

Continuous shooting 200 degree steam helps to
remove the most stubborn dust too.

It's a steam, not water; so your wall or ceiling
won't get dirty.
Please click on the link below to watch the megic of High Pressure Steam: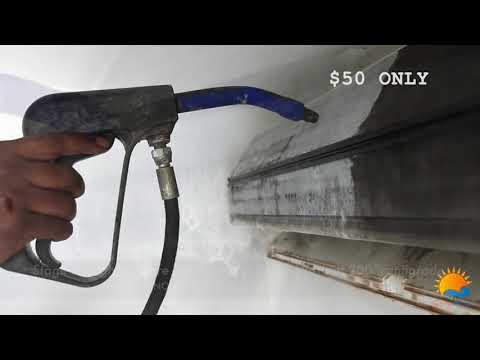 Promotional Prices:
$50 each for 3 units
$60 each for 2 units
$80 each for 1 units
We are cheaper than our competitors because we believe that the latest technology must be affordable for everyone.
Other services:
NORMAL SERVICE (Cleaning of filter, vaccuming of fancoil/drainage pipe, removal of dust from cover) :-
$15 per unit for 10 units and above (Non HDB)
$18 per unit for 7-9 units (Non HDB)
$20 per unit for 3-6 units (Non HDB)
$18 per unit for 3 units (HDB)
$25 per unit for 2 units (HDB - Non HDB)
$40 for 1 unit only (HDB - Non HDB)
HIGH PRESSURE ANTI BACTERIAL STEAM PLUS GENERAL SERVICE:-
$35 per unit for 3 units and above
$40 per unit for 2 units $40 each
$60 per unit for 1 unit
CHEMICAL WASH PLUS GENERAL SERVICE:
$30 per unit for 4 units
$33 per unit for 3 units
$40 per unit for 2 units
$60 per unit for 1 unit
CHEMICAL OVERHAUL:
$85 per unit for 4 units and above
$90 per unit for 3 units
$100 per unit for 2 units
$110 per unit for 1 unit
CONDENSER(COMPRESSOR) CLEANING WITH HIGH PRESSURE STEAM:
$50 per unit for 1 to 2 units
$40 per unit for 3 units and above
***add $30 if add chemical wash
GAS TOP UP
AIRCON REPAIRS AND INSTALLATION
We are registered company and receipts would be issued after everry service
CALL SUNNY AIRCON 93763389