I'm aware that new sign ups are not able to receive the email confirmation notification, due to google has disabled the SMTP service. please email me at
[email protected]
for manual activation. We will be moving to a better platform soon.
Pag may issue direct email nyo lang ako sa
[email protected]
. Hindi mawawala ang site nato dahil need natin ng ganitong site para may protection tayo. Kumpara sa Social Media kung san expose ang buong buhay nyo :) Ingat baka matrace kayo. Alam nyo naman ang nature ng buhay natin sa Singapore. Ingat po sa lahat. Salamat po! :)
Important notice to those who are posting Job Advertisements on the site. Please check the proper guidelines from Tafep.sg
here
before posting. Read on the Words And Phrases To Avoid In Job Advertisements .
Hi to all Pinoys out there in Singapore! We are bringing up a new online community where our aim is to help each other and to integrate / blend well with other people around us here in our 2nd Home. Hope you can join us and make us your new tambayan place! An attempt to bring back pinoysg.com . For issues on the site please send your concern to
[email protected]
. Please don't forget to check your spam folder when checking for the confirmation email.
Aircon Service NoContract $15,Antibacterial Deeper Steam Cleaning $33,Chemical WasH $33,HP 93763389
AIRCON SERVICING,DEEP CLEANING,REPAIRS,INSTALLATION,DISMANTLING,TOP UP GAS,STOP LEAK CALL 93763389
OFFICIAL RECEIPTS WILL BE GIVEN
LOW PRICE WITH GOOD RESULTS AND DO NOT NEED TO SIGN CONTRACT.NO HIDDEN COST.NO TRANSPORT COST.NO SURCHARGE FOR WEEKEND OR NIGHT SERVICE. NET PRICE. PLEASE READ GENUINE COMMENTS FROM OUR CUSTOMERS. GUARANTEED RESULTS EVEN IF ITS THE CHEAPEST. NO RUSH JOB TO ENSURE THE JOB IS DONE RIGHT..YOU WILL NOT GET ANYWHERE SUCH GOOD PRICE WITH GOOD RESULTS ESPECIALLY FOR OUR CHEMICAL STEAM SERVICE WHICH OUR CUSTOMERS APPRECIATE THE MOST WITH THE RESULTS AND THE PRICE
Before reading our full range of services please watch the 100 seconds video link to see our most popular chemical steam service for Aircon not cold and foul smell at a price as low as $50 per unit :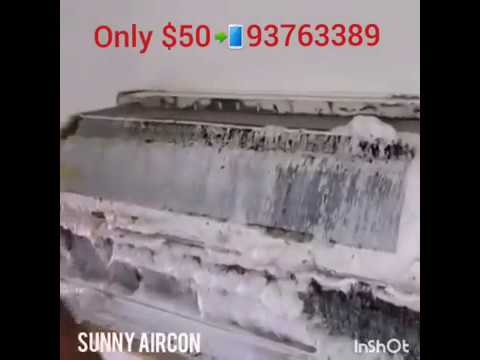 Our Technicians are well trained and experienced unlike some companies only send serviceman who can service aircon but cannot trouble shoot. We will not suggest repairs that is not required to earn extra money. Also beware of many contractors use second hand parts they retrieved from old aircon and charging new part price to repair your aircon which will soon breakdown again. We only use genuine brand new parts when replacing any part that has broken down,You get full coverage and peace of mind when you service with us..
CALL 93763389
WE HAVE SAVED A LOT OF MONEY FOR OUR CLIENTS BY HELPING THEM AVOID V.EXPENSIVE CHEMICAL OVERHAUL SUGGESTED BY THEIR REGULAR SERVICEMEN,AVOID UNNECESSARY GAS TOP UP AND GOT THE WORK DONE BY CHEMICAL WASH WITH STEAM CLEANING AT ONE THIRD THE COST.. IN MOST CASES POOR COOLING IS DUE TO AIRCON NEEDING DEEPER CLEANING AND NOT GAS TOP UP AND ESPECIALLY FOR INVERTER MODEL THE CHANCES OF NEEDING TOP UP IS MINIMAL UNLESS THERE IS A GAS LEAK FROM THE PIPING.
OUR LATEST SPECIALLY IMPORTED UNIQUE STEAM MACHINE HAS THE COMBINED EFFECT OF HYDROJET CHEMICAL SERVICING AND ANTI BACTERIAL STEAM EFFECT TO GIVE YOU THE OVERHAUL EFFECT AND STILL KEEPING THE PRICE LOW COMPARED TO THOSE CHARGING FOR CHEMICAL OVERHAUL OR HYDROJET CHEMICAL SERVICING.The power of the steam machine matters and probably we use the most powerful steam machine in the market.Our steam machine weighs almost 20kg compared to Karcher SC5 steam machine that weighs 6kg. Our steam pressure reaches upto 10bar compared to Karchers 4.2bar for better penetrating and deeper cleaning power.Our steam machine vapour is about 140g per minute compared to Karchers 65g .Its almost like washing the aircon with boiling water with our machine without the mess.
GENERAL SERVICING- Cleaning of cover,filter and dusting and vacuum fan coil unit and drainage pipe
(CHEAPEST AND YET NO NEED TO SIGN LONG CONTRACT,beware some after signing contract send inexperienced workers who do a rush job and not proper servicing)
$15 per unit for 10 units above
$18 per unit for 7-9 units
$18 per unit for hdb and $20 for non hdb for 3-6 units
$25 per unit for 2 units
$40 for 1 unit only
Aircon Anit Bacterial Steam Cleaning for Aircon still in good running condition but needs anti bacterial and deeper cleaning for better performance and to get rid of bad smell.
$33 per unit if 3 units above ( Almost the same price as General Servicing but deeper cleaning)
$38 per unit if 2 units
$60 if 1 unit
-steam cleaning is deeper cleaning than general servicing
-the fan coil and hard to reach roller blade will be steam cleaned
-immediate effect with fresh air smell like mountain air and better performance of the aircon unit blowing cooler air at higher setting,saving electricity and longer lasting aircon system
-steam cleaning will remove accumulated dust and bacteria and molds from roller blade and fan coil
-helps to delay chemical wash as the unit is better maintained than general servicing
-healthier as the super hot steam helps to breakdown and KILL bacteria and prevents spreading OR multiplying of the bacteria
-HELPS TO REMOVE FOUL SMELL AS SUPER HOT PRESSURISED STEAM IS USED
-CHEAPER ALTERNATIVE TO CHEMICAL WASH
- WE USE INDUSTRIAL STANDARD SUPER HOT HIGH VAPOUR PRESSURISED STEAM MACHINE WITH SUPERB CLEANING AND DISINFECTING FUNCTION,THE POWER OF THE STEAM MACHINE MATTERS FOR THE EFFECTIVENESS OF THE STEAM CLEANING.
CHEMICAL WASH + GENERAL SERVICE
$33 per unit FOR 3 units(CHEAPEST )
$40 per unit if 2 units
$60 per unit if 1 unit
Clean air filter
Clear water pipe
Washing evaporator coil,,drainage pan with CHEMICAL
BENEFITS:
Helps to prevent leakage
Removes foul smell from fan coil
Deep Cleaning-Intensely helps to remove MOLD,BACTERIA and DUST from the fan coil for healthier air
More intense cleaning than general servicing as general servicing will only clean the air filter. and not the fan coil
Aircon cools faster and saves electricity and money. The aircon will function smoothly and last longer due to reduced strain on the system
Also recommended for cases where the aircon cooling is slow and insufficient.
CHEMICAL WASH + ANTI BACTERIAL STEAM CLEANING +GENERAL SERVICING- HIGHLY RECOMMENDED
Watch the you tube video link below for chemical steam to be convinced. :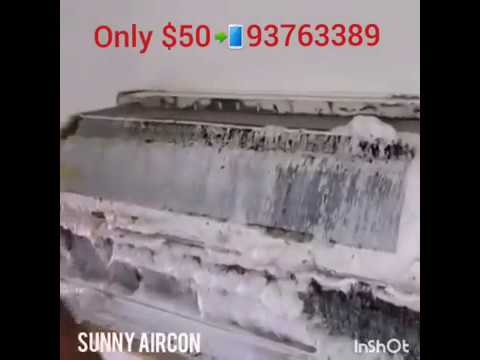 3 units and above ONLY $50 EACH.CHEAPEST IN THE MARKET WITH PROVEN RESULTS..BEST VALUE FOR MONEY
2 units $60 each
1 unit $80
This method is superior to general chemical wash alone as the steam will further sanitize and clean the blower units,flushes out the loosen dirt from chemical wash and steam reaches hard to reach areas giving close to the expensive chemical overhaul cleaning method
As steam and less water is used it is less messy, and the wall will not be affected when cleaning is going on
Chemical wash with 175 degrees Centigrade steam kills bacteria and foul smell gets eliminated for healthier air conditioning
STEAM CHEMICAL WASH UNLIKE CHEMICAL OVERHAUL THERE IS NO NEED TO DISMANTLE THE UNIT AND THUS YOU WILL GET BACK A CLEANED BETTER COOLING UNIT WITHOUT AFFECTING OR DAMAGING THE WORKING OF THE SYSTEM.
NB: BY DISMANTLING AND FIXING BACK SOMETIMES THE AIRCON LOOSES ALIGNMENT BECOMES NOISY AND EVEN DAMAGED AND WE CAN DO WITHOUT DISMANTLING AT A LOWER PRICE AND GIVE YOU SAFELY CLOSE TO CHEMICAL OVERHAUL RESULTS. IN SOME CASES THE CHEMICAL WASH ALONE WILL NOT SOLVE THE PROBLEM BECAUSE THE FAN COIL ON THE REAR IS CHOKED WHICH MAY REQUIRE OVERHAUL WHICH IS VERY EXPENSIVE. IN SUCH CASES WE NORMALLY ABLE TO SOLVE THE PROBLEM BY USING OUR POWERFUL STEAM TO PUSH OUT THE DIRT ON THE REAR. THIS IS THE EXTRA MILE WE GO TO SOLVE YOUR PROBLEM.
Good to have chemical cleaning every one to two years to refresh the aircon. Dirty Aircon is normally the cause of poor cooling.and system breakdown
OUR MOST HIGHLY APPRECIATED SERVICE IS THE CHEMICAL STEAM WASH AT AN AMAZING $50 PER UNIT WITH AMAZING AND HIGHLY APPRECIATED CLOSE TO CHEMICAL OVERHAUL RESULTS BUT AT ONE THIRD THE COST. OF CHEMICAL OVERHAUL.
DUCTED UNIT SERVICING $40 PER UNIT INCLUDING CHANGING NEW FOAM FILTER
CHEMICAL OVERHAUL
$110 single unit
$100 each for 2 units
$90 each for 3 units
FREE GAS TOP UP
CHEMICAL OVERHAUL IS 100% CLEANING OF THE FAN COIL AND FAN ROLLER BLADE BY FULLY DISMANTLING OF THE ENTIRE FAN COIL UNIT FOR SERIOUS CASES OF LEAKING AND NO COOLING,AIRCON VERY DIRTY DUE TO LONG TIME DID NOT SERVICE
AIRCON REPAIRS AND INSTALLATION
SUNNY AIRCON & M&E SERVICES PTE LTD .
Building and Construction Authority (BCA) Registered
Biz Reg No 201708900K
Hp 93763389
Type of Service: Chemical cleaning for condenser,Installation,Repair,Servicing